"The Mr. Catalyst" | Video Activation Plan
THE BENEFITS OF OUR VIDEO ACTIVATION PLAN
GAIN ADDITIONAL VALUE from video content you've already created. We'll update or repurpose existing video to better serve your goals, reinforce your brand, and improve SEO. According to Vidyard, you can generate 3x the leads from the videos you've already invested in.
UNDERSTAND YOUR VIDEOS' PERFORMANCE to help you make better business decisions. We'll review the analytics of your top performing videos, provide insights based on what we find, and show you how to make the most out of your video metrics.
IDENTIFY CONTENT GAPS in your video strategy. During the video content audit, we'll keep an eye out for holes in your current strategy where fresh or repurposed video could have an impact.
ENSURE BRAND CONSISTENCY by eliminating or refreshing outdated video content. As companies change, everything from logos and colors to services and mission statements can change, too. We'll make sure the face your business shows the world is consistent across all of your videos.
UPGRADE YOUR VIDEO PLATFORM to better serve your marketing, sales, and customer success goals. We'll recommend the optimal video hosting platform for your business so you can start to better leverage video.
"THE MR. CATALYST" INCLUDES
Video Content Audit
Elimination of Irrelevant or Outdated Video
Optimized Metadata for Each Video
Distribution Plans for Each Video
Promotion Plans for Top Performing Videos
Analysis of Performance Metrics
Video Hosting Platform Recommendations
Video Hosting Platform Set Up and Training (Optional)
Final Audit Report Summarizing All Findings & Recommendations
Ongoing Platform and Channel Management
Ongoing Reporting & Analysis
THE PROCESS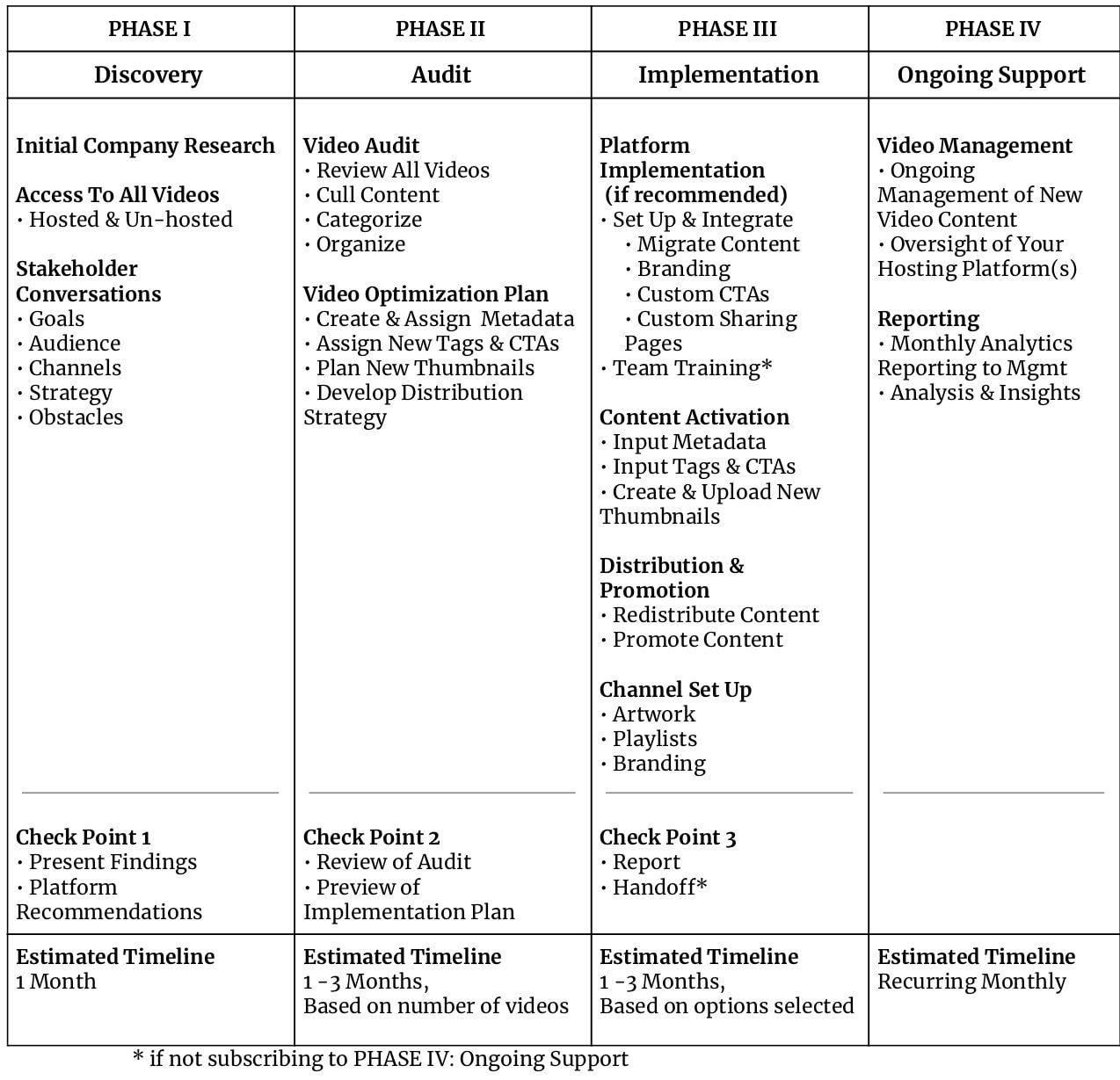 LET'S HAVE A CHAT
If you're considering a video activation plan to get more value out of your existing content, give us a call now at +1 (919) 960-1222 or fill out the form below to let us know a bit about your goals. Either way, Justin will get back to you in a jiffy to fill you in on the benefits of this service and explain why he only eats once a day.