Written by Kyle Conroy
It was a rainy day on the patio of Na'Mean in Durham.  Between bites of my milanesa sandwich, I was being told about Storyboard Media's internship project.  The guidelines were simple: Create whatever I wanted, using Storyboard's equipment, so long as it doesn't suck and I work quickly on it.  Knowing this conversation was coming, I had already been thinking about what I wanted to make for my first film project since undergrad.  I had this bizarre, unexplainable idea in my head to make a horror short film. Between bites of couscous, I also had the bizarre, unexplainable impulse to tell the Ben and Justin that I wanted to make said horror short for my project. The events that followed led all of Storyboard Media down the month-long rabbit hole that was our very first short film.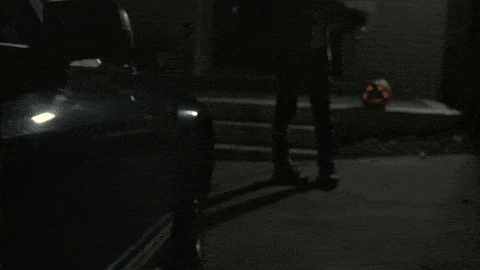 I spent the better part of the next two weeks in "The Cave." Instead of the big, open-aired common area where the rest of the team likes to work, I preferred to brainstorm in the team office with the lights off.  I shut myself in the room, blasted scary movie film scores* through my headphones, and just researched everything about the horror genre. I read everything from the literary definitions of horror and suspense to modern editing and lighting techniques that give a film the classic "horror look." Anytime someone opened the door and let some light in, I'd wince and realize how much of an antisocial creep I looked like…Kafka would be proud I guess.  My time in "The Cave" eventually paid off, and by the end of week two I had a rough draft of a script I could pitch to the Storyboard Team.  
Everyone was excited to get started after my pitch, the only problem was that I knew I wanted the release date to be Halloween (because what better time to release a short film?), and the date was now October 13th. I had about two weeks to produce, rehearse, film, and edit my first ever short film.  I knew I could push the release date back if I wanted to, but I also knew that film work will almost always be on a strict deadline, so it was better to get in the habit of setting and working towards hard deadlines.  The Storyboard team gave me exactly what I needed which was guidance when I asked for it, but mostly creative autonomy to take full responsibility for my own project.  After the budget, casting, schedule, lighting design, and shot list were finalized it was time for the shoot days.
I come from a theater background, and my transition into film work has been an interesting readjustment of my skill set.  I have over a decade of directorial and creative management experience, but I'm still green to the technical side of filmmaking.  This shoot, and I imagine a couple more in the future, was a tug-of-war between the experienced, theater side of me that wanted to move a mile a minute and the still-green filmmaker in me that wanted to slow down and learn the nuances of everything I was using.  I still managed to wrap the shoot in the three scheduled days, and the weeks of preproduction work gave me a solid amount of footage to work with as I moved into editing.
As anyone who works in film can tell you, the editing process is a monster that looms over your entire production.  You can't start on it until everything else is basically finished, and you know it's just going to suck out a week of your life, and probably a small part of your soul in the process.  At this point I was already used to extended time in "The Cave", and after giving up a weekend to cut, trim, ripple delete and color correct, I had finished a rough cut. It was cleared by Ben and Justin, and I managed to get it out on the Halloween deadline.
 It is one of the most rewarding things in the world to dream up an idea and then see it come to life in front of you.  I still have a long way to go, but the process taught me about the work that's required at each step of the filmmaking process.  It can take months and sometimes years for filmmakers to produce work they're proud of,  but this experience gave me a crash course in what it all takes, and if it was anything like the work I plan to be doing in the future, then sign me up!
*- Personal favorites are now the scores from "It Follows", "Insidious", and "Drag Me To Hell"
If you made it this far, you probably want to see the final product here…